Nazareth College | Christopher Baker | Summer 2018
THEIR LIFE'S WORK
Music therapist Stephanie Kawzenuk Epstein uses music to enhance her patients' quality of life.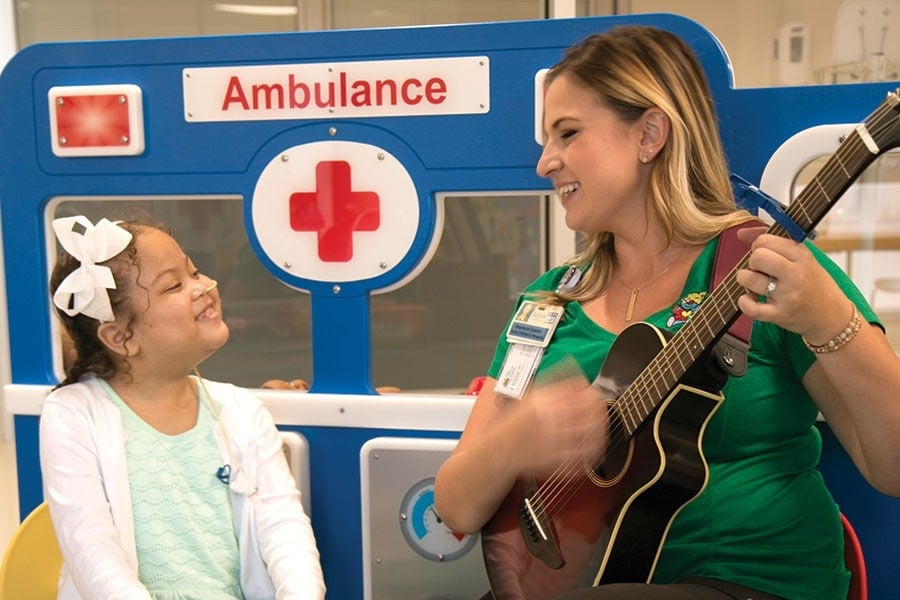 As a music therapist, Stephanie Kawzenuk Epstein '11 treats patients with a variety of medical conditions, teaching them to use music to express emotions and aid the healing process. While she has experienced many joyful moments with cheerful children, Epstein quickly saw the power of music even in difficult times.
"The stark reality is I work in a children's hospital with some of the most complex medical cases," says Epstein, currently a music therapist at Holtz Children's Hospital in Miami. "Mortality is a part of our everyday life, and we have to be ready to handle that."
Epstein introduced what she calls "heartbeat songs" into her music therapy program in 2014. After recording the heartbeat of terminally ill patients, she either matches the rhythm to a favorite song or helps the patient or their family write an original song to that beat. The process immerses Epstein into her patient's life in a unique way.
"When a family allows an outsider in during such an intimate, fragile time in their life, it is something that can't be taken lightly," says Epstein. "I know that although it's heartbreaking and awful, being able to provide that space and that remembrance helps heal."
Epstein's desire to improve patients' lives brought her early success as a music therapist. After graduating in music therapy/music education and completing her master's, she was hired by Holtz in 2014 with the responsibility of building a music therapy program from the ground up. She started as the only music therapist in the entire Jackson Health System working part-time conducting outpatient treatment, but her goal was to conduct inpatient care, where she believed she would have the greatest impact on patients.
"It was a large task to take on," admits Epstein. "I had great support from doctors and nurses who advocated for me and saw the value in music therapy." By 2015, the program had hired more therapists and promoted her to a full-time inpatient care position responsible for the quality-of-life aspects for patients in long-term care.
As part of that quality-of-life charge, Epstein connected with the Ukulele Kids Club, Inc. (UKC), an international organization that gives ukuleles to pediatric inpatients so they have an opportunity to learn to play. She began to consult with UKC about music therapy programs; soon, she joined their Advisory Board as vice president and director of music therapy, connecting with therapists as far away as France.
"I'm constantly doing research projects, collecting data, and presenting at music therapy conferences, but also nursing and other medical conferences as well," says Epstein. "Coming from Nazareth, I had learned to value evidence-based, experimental research. When I moved into my career, I simply thought that is what professionals do."
Epstein's willingness to go the extra mile for her patients shows in her professional preparation, but also in her desire to reach a personal level with her patient, no matter how difficult the circumstances.
"The type of work we do is built on relationships," she says. "I've been there at the time of death playing and singing along with the family, and it is impossible not to be affected by it."
But for Epstein, this is simply what music therapists do every day, and she takes comfort in knowing she gives families something tangible that will be there even after their loved one has passed.
Christopher Baker '07 is a content specialist in Nazareth's marketing department. Photo by Jeremie X. McLeod, Jackson Health System.