Ukulele Kids Club Brings Healing Powers of Music to a Red Cross Shelter
American Red Cross | Oct 13, 2017
Story and photos by Chris Genin, American Red Cross volunteer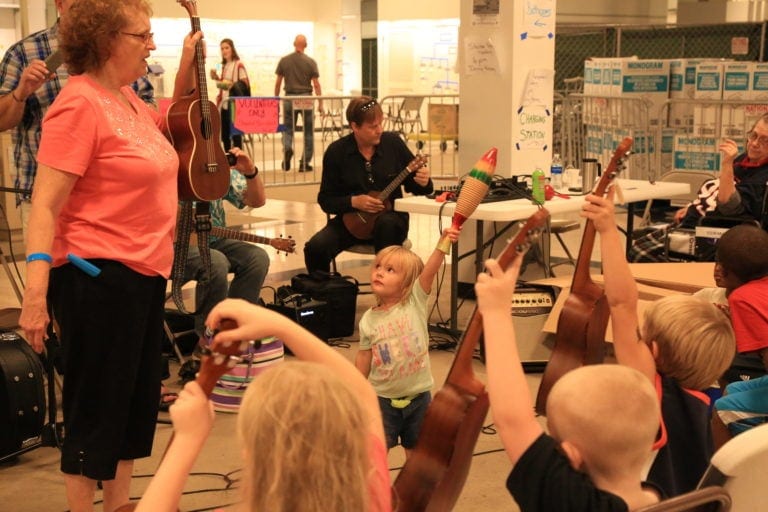 Shelter residents and volunteers gathered to the sound of a live band, featuring the ukulele, playing at the Greenspoint Mall Shelter in Houston. Children sang along to nursery rhymes, while older residents sang along to the classics as the Ukulele Kids Club performed for people who remain displaced after Hurricane Harvey. Joy radiated from the crowd, demonstrating the happy and healing powers of music.
Ukulele Kids Club's mission is to share the magic of the ukulele, a unique string instrument, and to teach kids the basics. Operating out of the Miami area, the club normally goes to hospitals and plays for kids in long-term care. However, when Hurricane Harvey made landfall, local musician Kevin Griffin put out word to the local ukulele community that there would be kids in shelters who might enjoy a new activity.
Club members answered the call to help, and word spread quickly among musicians. Not only were they willing to play, but local instrument builders generously donated 100 ukuleles.
These interactive experiences teach children that ukuleles are not just toys, and that music is something you can keep up with your entire life. The longer-term goal is to provide children with something positive as they transition from shelter living to a new household.
"We believe music has potential to heal, and that's the whole idea," Griffin said. "We aren't here for exposure or anything like that. We just love music, it has had an impact in our lives and we'd like to share that with those who may need it."
Of course, it can be difficult to keep the attention of young people so Griffin enlisted the help with this Susan Pearson, a former school teacher, who helped implement some teaching techniques during the ukulele lessons.
"Everyone was clapping and bouncing their feet up and down," Pearson said. "It was neat watching the kids play along."
After such a positive experience and response from the shelter community, and with at least 10 kids showing interest, Griffin is eager to return to teach future lessons. He is also planning to keep in touch with the families of the children who continue to show interest so they may gift the instruments as a family transitions out of the shelter.