The Power of a Ukulele on Healing Hospitalized Children
WSMV-TV, Nashville TN | Terry Bulger | Jul 5, 2017
"Congrats to Stephanie Epstein at Holtz Children's Hospital. You remain our Modern Hero."
Meet Stephanie, our everyday hero who helps children as they heal through her innovative use of music and song.
Doctors, nurses and musicians believe an easy to play ukulele can make a substantial difference in a sick child's day.
The gray setting of a children's hospital bed is what those ukuleles are hoping to change. Music therapists and 300 of the nation's top hospitals believe it helps.
"Being in a hospital is unfamiliar, it can be scary, and bringing an instrument like a ukulele, which they can hold and play so easily, it helps make an unfamiliar place a little more familiar," said Kelsey Lowds, a music therapist at Vanderbilt.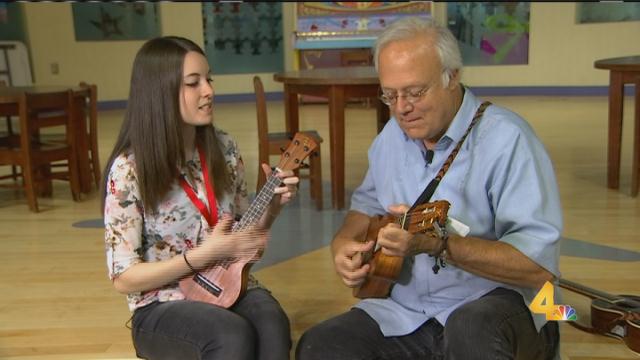 It's easy and fun – two things hospitalized children don't see much in their difficult daily medical setting.
Music in their hands can change attitude, boost confidence and increase motivation.
"Some bang it, that's OK. Some play it really melodically, and that's wonderful," said Bob Tigert with Ukulele Kids Club.
Three-thousand ukuleles have been donated in the last two years to hospitalized children across the country.
"So for 40 bucks you can change kids' lives," Tigert said.
A show in Nashville on Saturday night will raise money to get more of the instruments into the hands of hospitalized children. It takes place at Douglas Corner on 8th Avenue.