Music is fun. Music is vibrant. Music is culture, art, connection. Music is also healing, and I am here to talk a little bit about my own experience in that arena.
Music has always been a part of my life. Some of my earliest memories involve me, the shy, quiet little girl, coming out of her shell at school because it was MUSIC DAY! A day where I forgot my shyness and would freely smile and clap and sing because it just felt so good to do so. My grandparents gave us an old upright piano and my mother signed me up for lessons when I turned 7 years old. It took a few years, but I eventually fell in love.
I grew up, and my love for music never waned. I got both my bachelor's and master's degrees in music therapy, a field I loved. I got to use music to help other people, something that still warms my heart twelve years into this career. Depending on the setting, I might be helping alleviate pain, teaching coping skills for anxiety, or helping someone learn to navigate their communication device – all depending on what a person's individual needs are. My favorite work has been in mental health, specifically dealing with trauma. In the hands of a board-certified music therapist, music could both give someone an outlet to use their voice and speak their truth as well as provide the safe space and structure they needed to express themselves.
But what does music mean to me? More specifically, what does the ukulele mean to me?
In my own life, I have known extensive trauma and have my own chronic medical issues. Ukulele has given me ways to cope with both.
When I was first diagnosed with an autoimmune disorder, I felt physically, mentally, and emotionally awful. I used to be a distance runner, jogging on trails and racing at high altitude in the hills and mountains of beautiful Colorado. In 2018, what used to be an empowering, joyful activity became a reminder that my body could not handle what it used to in the past. I found myself having a difficult time just carrying the instruments I needed for my music therapy work. When I underwent medical procedures, it was difficult to even get up from the couch. There was breathtaking grief involved with navigating my changing physical abilities.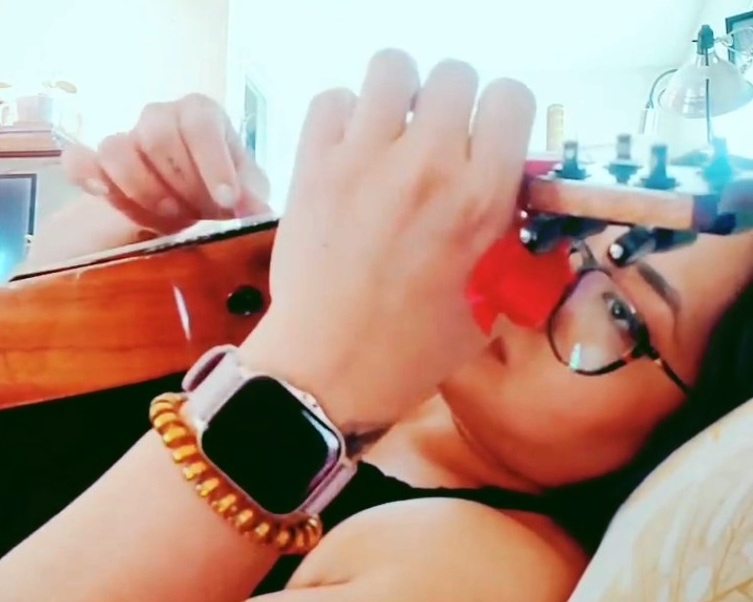 This is where the ukulele came in. Every time I picked it up, it made me smile. Cradling this small instrument close to my heart, I felt its vibrations and heard its melodic voice. I learned how to play through online resources, especially podcasts and tutorials on YouTube. I found a community, sharing joy with people from a distance. When the COVID-19 pandemic hit, I was able to keep these connections to the ukulele world, finding joy even as the word "normal" was redefined on a global scale. Unlike my piano, or even my guitar, I could stay in bed and cradle an ukulele, still able to make music even if the pain and fatigue made other things impossible.
Ukulele helped me feel human again. As a board-certified music therapist, I knew that engaging in music could be helpful in managing pain and its chronic presence in my life. Thakare et al. (2022) [1] recognize various ways that music can help modulate our perception of pain in ways that are non-pharmacologic, noninvasive, and free from adverse side effects. Thinking about the ways I support clients who are undergoing pain, fatigue, limited physical function, and possible grief, I considered myself lucky to use this modality for my own wellbeing. As I learned to navigate the world with my chronic illness, I was further motivated to help my clients discover this instrument for themselves. In my work in music therapy, I found that ukulele had a universal appeal and could be adapted for my clients with fine motor issues, short attention spans, and limited visual capabilities.
Ukulele carried me through the physical changes, the new limitations on my capacities, and was a balm for the emotional aspect of my illnesses. It helped alleviate physical pain and gave me a new way to express myself. I will always call it the happiest of instruments, and I am so glad to be able to share my love for it here on this platform and in my therapeutic work.
REFERENCES
Thakare, A., Jallapally, A., Agrawal, A., & Salkar, P. (Eds.) (2022). Music therapy and its role in pain control. Music in Health and Diseases. DOI: 10.5772/intechopen.102617