Dream Guitars Teams Up With Luthiers For A Cause
Dream Guitars Teams up with Luthiers for A Cause to Help Kids in Need
[Weaverville, NC] October 29th 2022– Dream Guitars, a leading retailer of fine guitars is teaming up with Luthiers For A Cause (LFAC), a philanthropic initiative run by luthiers to make a difference in the lives of medically fragile children. In 2022, four of the world's most distinguished guitar builders have come together to create four unique guitars in benefit of the Ukulele Kids Club's mission of supporting medically fragile children through music.
Steve Grimes of Grimes Guitars, Ben Wilborn of Wilborn Guitars, Peter Robson of Robson Acoustic Guitars, and Jay Lichty of Lichty Guitars have all volunteered their time and talents to craft a family of four different sized guitars, all made of master grade Maple and Sitka Spruce. Grimes, who has donated all of the woods used for this project, says he joined the project because of his "desire to contribute to a wonderful cause and organization." While Jay Lichty, founding member of LFAC and a luthier in North Carolina has shared: "I am extremely honored to once again be involved with a Luthiers for a Cause project. I get to do what I love to do and work with some great Luthiers and at the end of the day, it's all for a great cause. Now that feels good."

Dream Guitars, the highly renowned online instrument retailer, is partnering with LFAC as the platform that will auction these one-of-a-kind guitars. ""We are all in this life together and we should take care of each other. That's what I believe and that's what Luthiers For A Cause (LFAC) is all about. If you are a guitar lover, here is your chance to get a new guitar AND help children by providing the gift of Music Therapy." said Paul Heumiller, founder of Dream Guitars. "Imagine children being given a 'ukulele and lessons so that music can be a big part of their healing. I know every guitar lover knows the magic of music and it's been proven time and time again to have healing powers. You have the power to help!".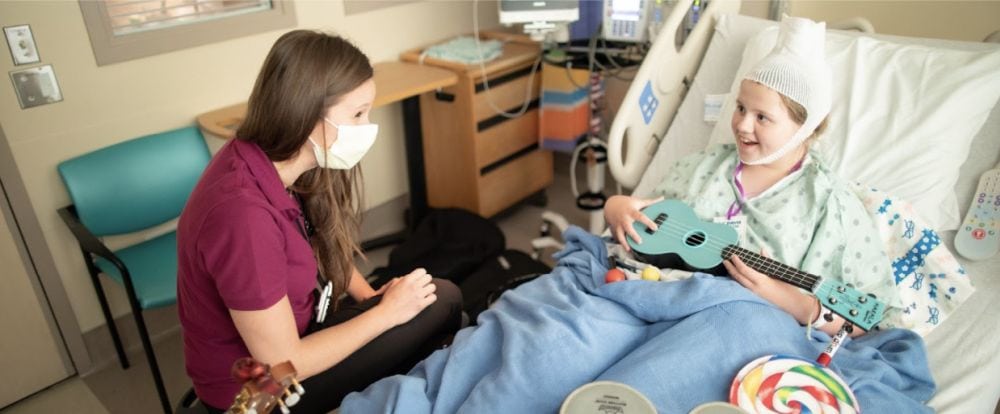 The proceeds from the auction of these guitars will benefit the Ukulele Kids Club Inc.  The Ukulele Kids Club Inc. (UKC) a 501c3 non-profit that supports medically fragile children through music. Through donations of its signature instrument, the UKC helps children learn how to apply music for wellness, in collaboration with music therapists around the world. The UKC partners with over 325 music therapy programs globally and has donated over 13,000 ukuleles since its inception in 2013. Last year, they launched their new program UKC AT HOME, aimed at supporting kids at home at no cost to them.
Dream Guitars has listed these incredible masterpieces for auction as individual buys or a purchased set starting as of November 4th. 2022. To make a bid on one of these luthier-made guitars, please visit dreamguitars.com/luthiers and email sales@dreamguitars.com with your bid. Your purchase may be tax deductible as a contribution to the Ukulele Kids Club.
The Luthiers for A Cause 2022 project is also made possible with the generous donations of materials and support from Steve Grimes, TKL Cases, Rodgers Tuning Machines, Craig Lavin Custom Inlays and StewMac.
————————-
About Luthiers for a Cause
Launched in 2017, Luthiers for a Cause is a fundraising initiative that brings together world-class luthiers to make custom instruments in benefit of a charitable organization.  Their first build of 6 unique ukuleles raised over $100,000 for the Ukulele Kids Club Inc.
About the Ukulele Kids Club Inc.
The Ukulele Kids Club (UKC) is a nonprofit organization based in Lakeland, Florida. The  UKC has directly supported the healthcare of over 12,000 children through music, music therapy and donations of its signature instrument. The UKC works with more than 270 music therapy programs in the U.S. and internationally, including Canada, Colombia, France, Israel, Japan, Mexico, Puerto Rico, Dominican Republic, and the United Kingdom. The UKC is a platinum-level GuideStar participant; Learn more at www.theukc.org.
About Dream Guitars
For nearly two decades, Dream Guitars has been the preeminent dealer of high-end acoustic guitars, offering a first class experience with real expertise and guidance to the player and collector alike. Dream Guitars stocks an inventory of the finest steel string, nylon string, and electric guitars, while maintaining relationships with the best luthiers on the planet to get custom built instruments into the hands of those wanting the ultimate build experience.  Call us at 828-658-9795 or visit our website at www.dreamguitars.com to find your dream guitar.
Press Contact
Jay Lichty, Luthier
828-817-1460
lichtyguitars@gmail.com