Child's Play | Kamuke Ukulele Magazine
Kamuke Ukulel Magazine | Cameron Murray | Apr 3, 2016 
UKULELE equals happiness, so what better way to use the instrument than to cheer up seriously ill kids? KAMUKE reports on the fantastic work being done around the world to introduce ukes to children's hospitals.
WHEN children hear music, they come alive. Have you ever met a three-year-old who didn't like to dance? It's human nature, it's innate, it's the reason The Wiggles are multi-millionaires. But sometimes horrible things happen and kids end up in hospital, where their childhood is at least temporarily replaced with tiresome tests, scary scans and a myriad of medication. Enter the ukulele.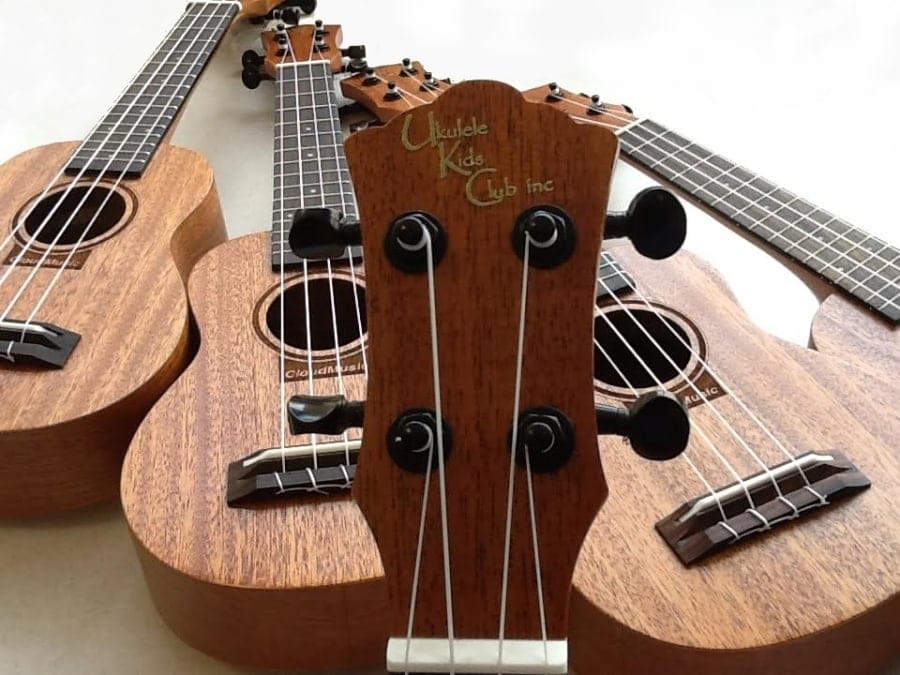 "When I give a child a ukulele, the first reaction is smiles," says Corey Bergman, President of non-profit organisation the Ukulele Kids Club Inc. "The parents just light up and it changes the whole atmosphere. In the hands of a music therapist, a ukulele is a tool for vast amounts of therapeutic benefits."
Founded in Miami, USA by Corey and his wife Edda in January 2014, the Ukulele Kids Club's mission is to donate ukes to children's hospitals for music-therapy programs.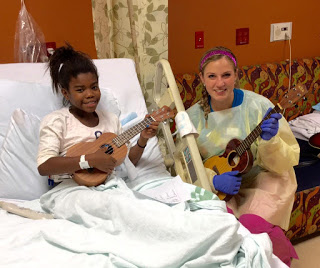 "They're not expensive instruments, so we bought maybe about a dozen and we handed them out to kids," explains Corey. "It's just a smiley, fun thing – it's like giving away candy! It's such a simple idea, it's a no-brainer."
Of course, music therapy itself is nothing new. Hippocrates is believed to have played music to his patients as early as 400BC, although he probably wasn't strumming a Kamaka.
"I don't know about you, but I've been into music my whole life," says Corey. "It makes me happy, it makes me cry; it gives you every kind of emotion, whether it's classical or rock or blues or whatever. You don't have to be a musician to really understand the language of music. It's global."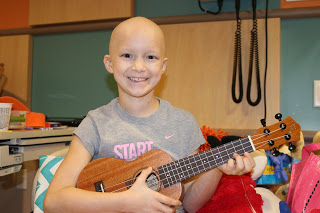 Something else that's global is the UKC. The organisation now has a UK branch, with further expansion in the works.
"I wanted to find some way of giving back as I felt I'd been taking for long enough," says Ricci Masero, Executive Coordinator of Ukulele Kids Club UK. "Being a keen ukulele player (and now maker) and having followed the good work of the project in the US, I felt something similar would be great for the UK."
So how have the Brits responded to the idea?
"The project's been received fantastically well here," Ricci tells us. "People have been very keen to help out in any way they can. The Southern Ukulele Store is dealing with our logistics and adding accessories and cases to deliveries where they can. Support from local ukulele groups and clubs has been exceptional."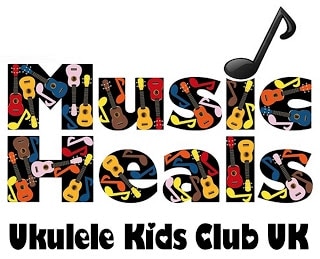 While there isn't an Australian arm of the UKC just yet, the Starlight Children's Foundation is flying the four-string flag Down-Under. Established in 1988, Starlight brightens the lives of seriously ill kids and their families by replacing pain, fear and stress with fun, joy and laughter.
"Music is a big part our Captain Starlight and Starlight Express Room hospital programs," says Jono Brand, Creative Director of the Captain Starlight Program. "Hospitals can sometimes be a scary place for children and music is a great icebreaker, connector and entertainer.
Jono recently experienced first-hand what a difference music can make in a difficult situation.
"A Captain Starlight recently entered a room on a hospital ward. As soon as we parted the curtains, we felt the tension," he tells us. "A four-year-old patient was in bed, curled up in a ball around her teddy, quietly weeping. Dad stood with his arms crossed, looking out the window. Mum sat beside the bed, staring at her phone. Both looked exhausted and empty. Captain Starlight started strumming her uke and began singing The Lion Sleeps Tonight.
"It's hard to articulate how the mood changed, but it did. It wasn't immediate; a gentle change. Dad uncrossed his arms, the girl sat up in bed, Mum reached for the hand of her child. By the end of the song, the room felt warmer.
"Captain Starlight offered to sing another song, but the girl asked for the same song once more. This time, Mum joined in. Dad didn't look that comfortable about it, but after a nudge from Mum, he did, too. There were smiles. The ukulele is a little instrument with big possibilities."
There are currently more than 100 Captain Starlights across every state and territory in Australia and there are plans for more. And more ukes, too.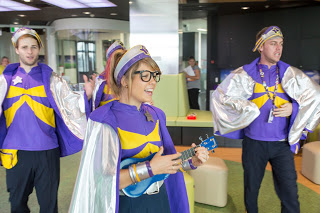 "We will continue to play the ukulele for as long the kids keep enjoying it," says Jono. "From a practical perspective, ukuleles are light and mobile. They are easier to move between hospital rooms than a piano! Additionally, from a training perspective, it's a simple instrument to pick up and with three chords, your repertoire of songs can be pretty vast. We have often seen long-term friendships develop between patients through the creation of a song."
Naturally, there are challenges when it comes to catering to children of varying ages.
"The therapists play songs like Somewhere Over The Rainbow and we jam a lot, just really fun, basic stuff," explains the UKC's Corey. "And they engage the kids in songs they like – a Taylor Swift song or whatever they're into. And it's so easy! The little ones pick up the three or four chords in 10 minutes. It's unbelievable."
"Let It Go from Frozen would have to be one of our most requested songs on the uke," Starlight's Jono tells us. "FYI, you can play it in five chords. Musical tastes for some of the older children change very quickly. One day, a song is hot, the next it's so not! Captain Starlights have to keep up. With ukulele tabs so available and new music added every day, it means we can stay on trend."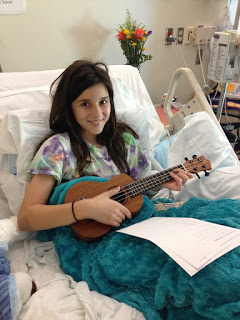 And it's not just the kids who are getting something out of the movement. Corey tragically lost his young son to a viral disease and starting the Ukulele Kids Club has helped him deal with his tremendous loss.
"It's all about healing," he says. "It helps me feel like I'm doing something good. When I play music with those kids, I get that fulfilment and it fills that void. It's been so joyful and so much fun.
"I didn't realise the power of this instrument. Honestly, until a couple of years ago, I'd never even picked one up. What I've found is there are ukulele groups all over the globe and the people tend to be very philanthropic because they see the beauty of that little instrument and they just like to help. What an amazing population this is! I'm so happy and proud to have been introduced to this world."
For more information, check out theukc.org, uk.theukc.org and starlight.org.au.